A group of survivors of the 2016 Pulse massacre and family of those killed in the attack endorsed U.S. Sen. Bill Nelson's re-election bid.
"There is only one person in this race who cares about us, and that's Bill Nelson," said Brandon Wolf, who survived the mass shooting.
Nelson right now faces a tough re-election challenge from Republican Rick Scott, two-term governor of the state. Polls show the race consistently close.
While Nelson and Scott both went to the scene of Pulse the day of the shooting and remained involved in response, Wolf criticized the governor for failing to listen to Pulse survivors regarding gun control.
"Just like he has so many times before, Governor Scott turned his back on us," Wolf said.
Scott mentioned the Pulse shooting in his State of the State address after the attack but angered some survivors by refusing to say victims were gay or LGBT.
The endorsement comes on the heels of some parents of children killed at Marjorie Stoneman Douglas High School, led by Fred Guttenberg, also endorsing Nelson. Guttenberg attended Saturday's press conference with Pulse survivors.
A rash of mass shootings in recent years made Florida a sudden poster child for debate about the nation's gun laws after years of heavy influence from the National Rifle Association on policy here. A number of those directly affected by the tragedy, including Wolf and Guttenberg, became nationally recognized voices on the issue.
State Rep. Carlos Guillermo Smith and Attorney General candidate Sean Shaw attended the Saturday press conference with Pulse victims as well. Smith, a gay Latino lawmaker from Orlando who has advocated for the Pulse community since the attack, held Scott responsible for continued failures on passing gun reforms.
"After Pulse, we grieved and stood with families to demand action. Now we're joined by Fred Guttenberg, whose daughter Jamie was taken at Marjorie Stoneman Douglas. Who's next?," Smith wrote on Facebook. "We cannot afford another NRA-sellout like Rick Scott in the US Senate."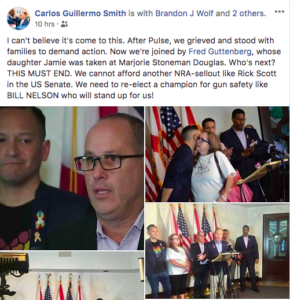 The Pulse shooting took place in the early hours of June 12, 2016, when a gunman swearing allegiance to the Islamic State started shooting people in the Orlando gay bar with a legally purchased Sig Sauer MCX. Ultimately, 49 people died in addition to the gunman, who was killed by police.
Wolf had been at the club with friends Christopher "Drew" Leinonen and Juan Guerrero, both of whom died in the attack.
Leinonen's mother, Christine Leinonen, also endorsed Nelson on Saturday.
The grieving mother said lawmakers like Nelson would enact common sense gun laws to prevent further attacks.
"This is preventable," she said, according to NBC 2 WESH. "And it's preventable by electing strong Democrats."
Leinonen spoke at the Democratic National Convention in 2016 after her son's death. She also attended Senate debates that year after endorsing Democratic Senate candidate Patrick Murphy.
Wolf after the shooting became vice president of LGBT advocacy group The Dru Project, a nonprofit named in Drew Leinonen's memory.