Speaking at the 9th Annual Puerto Rico Summit in Orlando Friday, Democratic gubernatorial candidate Philip Levine and Democratic U.S. Sen. Bill Nelson ripped the federal response to Puerto Rico's devastation by hurricanes last fall.
Nelson called for statehood for Puerto Rico.
Puerto Rico Gov. Ricardo Rosselló also ripped Washington, but his ire was focused on Congress for including a new excise tax on Puerto Rican businesses in the Tax Cuts and Jobs Act of 2017 passed in December.
All three drew at least partial standing ovations, though the crowd was mixed, with Democrats, Republicans and others, including a scattering of elected officials from Central Florida, South Florida and Puerto Rico.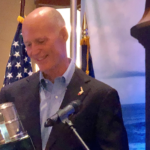 Earlier in the day, Florida Gov. Rick Scott also spoke to the gathering of more than 300 about all that his administration has done to assist Puerto Rico and Puerto Ricans who fled the devastation to Florida. He too, received an ovation. And Rossello thanked Scott, along with Nelson, Levine, and U.S. Rep. Darren Soto of Orlando, who did not attend, for their help for the struggling island territory since Hurricanes Irma and Maria laid waste and left problems that persist today.
Yet in their afternoon remarks, Levine and Nelson took off gloves, and most of the crowd loved it.
Levine personally brought one of the first planes into Puerto Rico with relief supplies shortly after the Sept. 20 Hurricane Maria disaster, arriving with the goods ahead of anything the Federal Emergency Management Agency offered. The group gave Levine an award for that, and also gave an award to Scott.
"The way the administration handled that relief effort was embarrassing to our nation and the world, what they did to Puerto Rico," Levine said. "And I don't care if that's politically incorrect, I'm going to call it like it is."
Levine said the same kind of White House response would have made the Normandy invasion or the Berlin Airdrop utter disasters.
"What our country could have done for Puerto Rico, it didn't do. Instead of throwing paper towels, what they should have done is say I want the top 25 CEOs of the top companies in America, put them on a plane, and say we will show the world what America can do!" Levine said, bringing a rousing ovation.
Nelson was more measured in his criticism of the federal response, but also far more detailed, talking about his numerous trips to Puerto Rico, including two weeks ago, when he saw small cities that still lacked power to up to 30 percent of their residents, and where clean water still is unavailable to many.
He spoke of recent decisions by the administration of President Donald Trump to end FEMA assistance, and, as of Friday, to bring home the Army Corps of Engineers' restoration efforts. He spoke of contracts being mismanaged, and "basic necessities" such as tarps and hot meals still not available to all.
"This is completely unacceptable. Can you imagine anybody on the mainland in Texas and in Florida almost nine months after the hurricane still without electricity?" Nelson said.
"I have always supported self-determination for all U.S. citizens. Now with all the poor treatment by this administration it seems to me that statehood is the answer," Nelson said.
"We should never accept incompetence andgross negligence as the new normal," Nelson said. "So we have to fight."