Tallahassee's top prosecutor says he won't pursue criminal charges against former state Sen. Jack Latvala.
State Attorney Jack Campbell's decision, announced Thursday, had been eagerly waited on by the state's political class – and by Latvala himself.
Latvala, a Clearwater Republican, resigned in December after two damning reports on his alleged serial sexual harassment. He first served in the Senate 1994-2002, then returned in 2010. Latvala was term-limited this year.
The Senate had sent on its findings to the Florida Department of Law Enforcement, which did its own investigation that was passed to Campbell's office for review for a possible public corruption case.
The most damaging allegation was that Latvala "on multiple occasions" offered to trade his vote for sex with a female lobbyist.
But Campbell this week decided he couldn't bring a case that he could prove by the stringent criminal legal standard of "beyond a reasonable doubt" and said he'd "take no further action."

The bombshell 'sex for votes' finding came toward the end of Special Master Ronald V. Swanson's report into a complaint filed by Rachel Perrin Rogers, a top legislative aide for future Senate President Wilton Simpson, in which she accused Latvala of sexually harassing her and assaulting her.
And a second investigation into sexual harassment claims against Latvala, prompted by a POLITICO Florida story, turned up a witness who bolstered the allegation that the senator would offer to trade sex for favorable votes on legislation.
Those revelations and other complaints not only led Latvala to resign, but also to abandon his exploration of a run for governor.
In comments to The Associated Press' Gary Fineout on Thursday, Latvala praised FDLE and lambasted his handling by Senate President Joe Negron of Stuart and Rules Chair Lizbeth Benacquisto of Fort Myers, both fellow Republicans.
Sen. Jack Latvala on Campbell decision to end investigation: "We got good law enforcement people who aren't influenced by Senate politics who can see through things." Says Senate process was a Kangaroo court led by @joenegronfl & @lizbethkb and that Negron wanted him out

— Gary Fineout (@fineout) July 26, 2018
Negron released his own statement later Thursday: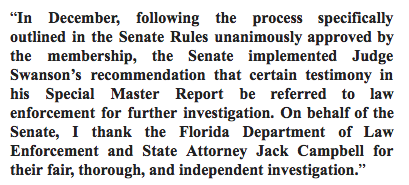 Campbell's office also released the FDLE's investigative report, below:
__
Capitol correspondent Jim Rosica contributed to this post.