Gov. Rick Scott's office wants $1,200 from Gwen Graham before it will deliver anything to respond to her public records request, contending that's how much staff time cost to research her inquiry into whether he spoke with nursing home administrators during the September 2017 tragedy at the Rehabilitation Center at Hollywood Hills.
The governor's office sent an invoice for $1,200 to Graham after her campaign issued a press release Thursday alleging that Scott and his office had not responded to her September open records request. In that press release, Graham, a leading Democratic candidate aiming to succeed Scott as governor, demanded, "What is Rick Scott trying to hide?"
In September Graham had followed up on media reports that had suggested Scott may have had telephone contact with nursing home officials during the slow-motion tragedy that unfolded at the Rehabilitation Center at Hollywood Hills.
During the several days of power outage following Hurricane Irma, 14 residents died from heat exposure. Several investigations of the tragedy have been launched, including a criminal investigation.
Graham filed a records request under Florida's public records laws for communications between Scott and his staff and nursing home administrators, particularly focusing on cell phone activity, but also seeking records from state agencies involved.
Thursday morning, more than 90 days later, Graham and her campaign charged that Scott had not responded to her records request, and appeared to be stonewalling.
The response came hours later, in a letter dated Thursday contending that the executive office of the governor had spent about 100 staff hours researching what records might apply to Graham's request, and for that she must pay $1,200 to reimburse taxpayers before anything might be delivered.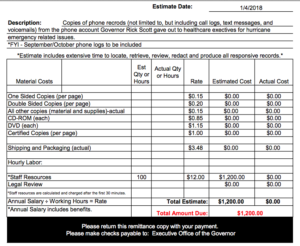 "Ms. Graham," the Office of Open Government wrote, "Upon review of your records request for the item "Copies of phone records (not limited to, but including call logs, text messages, and voicemails) from the phone account Governor Rick Scott gave out to healthcare executives for hurricane emergency related issues," it has been determined that a cost estimate of taxpayer dollars spent is required, pursuant to Chapter 119.07(4)(d). To produce Governor Rick Scott's September and October 2017 personal phone logs, approximately 100 hours of staff resources have been expended. This has been due to the strenuous time and resources that were dedicated to determining the identification of each individual number on the phone logs, as well as then identifying each call as state related business. The hourly rate indicated on the cost estimate is that of the lowest hourly rate of an individual who assisted with this assignment. This cost estimate has been provided in order to recover the taxpayer dollars spent processing this request.
"Please find the cost estimate attached to this email. As always, please feel free to reach out with any questions," the office advises her.
Graham, a former congresswoman from Tallahassee, is pushing open records and government transparency in her campaign seeking to succeed Scott as governor. Her campaign's press release Thursday alleged that "Scott and the all-Republican Cabinet have paid more than $1 million to settle lawsuits stemming from public record violations. And, last month, Scott pulled the plug on Project Sunburst, an online database of the governor's emails."
She faces fellow Democrats Chris King of Winter Park, Tallahassee Mayor Andrew Gillum, and former Miami Beach Mayor Philip Levine, and Republican Agriculture Commissioner Adam Putnam.
"Governor Rick Scott does not care about transparency. Throughout his administration he has shown a complete disrespect for the spirit and letter of the Sunshine Laws," Graham stated in the news release. "Florida used to be proud of our transparency laws. Scott has made a mockery of them."