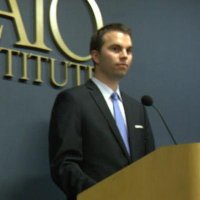 Few issues resonated more with young people during last year's presidential election than the idea of "free college." After all, with tuition costs at an all-time high and many recent college graduates saddled with tens of thousands of dollars in student loan debt, millennials are looking for a financial lifeline.
What to do? Well, according to some, the problem is stingy state governments. The less the state chips in, the more expensive college becomes. Known as "state disinvestment," it's a theory that has a number of high profile supporters and seems very logical at first glance.
Unfortunately for big government proponents, it's not that simple.
New research from the American Enterprise Institute, a free market think tank, found scant evidence for the idea that in-state public colleges and universities give students a break on tuition when government increases their funding. The study explained, "colleges largely plow that money into higher spending rather than return it to students through lower tuition."
When colleges and universities have confidence that the federal and state government will continue subsidizing tuition costs for cash-strapped college students, they have little incentive to reduce prices. Another study by the National Bureau of Economic Research found that well-meaning but misguided plans to provide "low-interest" loans for students and parents to pay for higher education actually contributed to the rise in college tuition from 1987 to 2010.
Of course, when students take out hundreds of thousands of dollars in loans to finance higher education they leave school saddled with large monthly payments they will carry for a big chunk of their lifetimes. These debts make it difficult—and in some cases impossible—for young adults to save, invest, buy a home or start a family. Millennials are picked on for living with their parents after college, but for many, there is no other choice.
All of us at Generation Opportunity, a grassroots movement of young Americans promoting individual liberty and entrepreneurship, are alarmed by government's outsized and damaging role in the cost of higher education.
If lawmakers truly want to help young Americans better afford higher education, they should start by introducing real choice and competition into the system, instead of more subsidies. Reforming the accreditation process, which discourages innovation and crowds out newer, smaller institutions that can't afford the costly and burdensome process, will bring less costly alternatives that give better value than a four-year degree.
A better solution to the accreditation process would also include empowering state governments with more flexibility instead of allowing the Department of Education to call all the shots. Smooth talking politicians who continue promising lower costs for college students through more government intervention and higher taxes on working Americans are modern day traveling salesmen, selling powerful elixirs with dubious results. Their misguided and often empty promises are driving-up college costs and student debt.
Becoming an adult means learning to accept some hard truths. Pouring more money into the higher-ed system has not worked over the past decades, and it's never going to work. The time has come for state colleges and universities and the politicians sounding the alarm about "state disinvestment" to take this lesson to heart.
___
David Barnes is the policy director for Generation Opportunity.