Florida Commissioner of Education Pam Stewart is working with her counterpart in Puerto Rico on a plan that would allow Puerto Rican high school students who evacuated to Florida because of Hurricane Maria study for and receive Puerto Rico diplomas in Florida, rather than Florida diplomas.
The issue is more than just choice and pride in which diploma a student wants. Many of the thousands of Puerto Rican evacuee students enrolling in Florida schools have spent the first 10 or 11 years of their schooling studying Puerto Rican curriculum. Come the end of their senior years, they may be unable to meet Florida's graduation requirements, which of course are based on Florida's required curriculum. That could not only damage the students' life plans, but it also could mess up test scores and graduation rates for the high schools welcoming them in this fall.
Stewart sent a letter Friday to Puerto Rico Department of Education Secretary Julia Keleher asking her to provide details on the Puerto Rico schools' curriculum and high school graduation requirements, and to work with Florida to see how they can line up existing equivalents within the Florida schools. The two departments of education have been in talks about it for three weeks, so it's a deal well in the works.
"This will allow students the ability to graduate on time with a Puerto Rico diploma rather than risk potential delays inherent in attempting to complete the different curriculum necessary to obtain a Florida diploma," Stewart wrote.
The plan would be optional for any 11th or 12th grader who has come to Florida because Hurricane Maria destroyed their homes or families' lives, forcing them to relocate. Each student could still chose to shoot for a Florida diploma, but he or she would have to be prepared to meet Florida's requirements, including passing the Florida Standards Assessments tests.
Puerto Rico tests its students in 9th grade, not 12th grade, so students arriving from Puerto Rico would not need to take such tests to obtain Puerto Rico diplomas.
"We are confident that through hard work and cooperation the education needs of those students displaced to Florida can be met," Stewart wrote.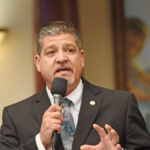 State Rep. Bob Cortes said he approached Stewart about a month ago with the emerging concern about what would happen to Puerto Rican high school students, given the very different curriculum they have studied before arriving.
"This led us to believe we've got a problem. If we don't do anything now, next year we'll have a big problem with a lot of students who can't graduate," Cortes said.
On Friday he said the plan emerging between Stewart and Keleher appears to be the solution. But there still are details that still must be resolved, he said. For instance: would the students' Puerto Rico diplomas make them out-of-state students if they chose to stay in Florida and enroll in a Florida college or university?
So he and others are looking at possible legislation.
Cortes, a Republican from Altamonte Springs, and other members of the Central Florida delegation are of Puerto Rican decent, including Democrats state Sen. Victor Torres and state Rep. Amy Mercado, both of Orlando, and Republican state Reps. Rene Plasencia of Orlando and David Santiago of Deltona. They and others, including state Rep. Carlos Guillermo Smith, an Orlando Democrat,  have all been looking at issues associated with the mass migration underway now.
The issues are, in some ways, unprecedented. Already, an estimated 160,000 displaced Puerto Ricans have moved to Florida in the past seven weeks, and most appear to be moving to Central Florida, which already had the state's largest and most-concentrated Puerto Rican community. Perhaps more than 4,000 of the newcomers are students who haves enrolled in schools in Osceola, Orange and Seminole counties. And more are expected, with estimates as high as 300,000 evacuees eventually moving to Florida, at least temporarily.
"Everything we do, we realize there is another additional problem," Cortes said. "And there may be more additional problems where we will have to work through that in legislation."