The Florida Hospital Association is expressing strong support and "deep appreciation" for a bill by U.S. Rep. Stephanie Murphy that would make Puerto Rican evacuees almost immediately eligible for full Medicaid coverage by the federal government if they have to evacuate to Florida.
The hospital association praised Murphy's "Disaster Displacement Act of 2017," House Resolution 4249, introduced last Friday by Murphy, a Winter Park Democrat, and co-sponsored by U.S. Rep. Darren Soto, an Orlando Democrat, and which is an identical companion to legislation introduced in the Senate by U.S. Sen. Bill Nelson, a Florida Democrat.
The bills are in response to the influx of Hurricane Maria victims evacuating the island because their homes and communities remain unlivable, and in many cases their jobs are gone. Estimates run as high as 120,000 who already have arrived in Florida, and estimates go as high as 300,000 who might eventually arrive. Many are arriving with little documentation and no insurance, relying on Medicaid for health care issues that include cancer treatment and chronic illnesses.
Murphy's and Nelson's bills would enroll evacuees arriving in Florida in Medicaid through an expedited process, and have federal government cover the full costs of their care for at least 24 months. In the absence of this legislation, the state of Florida would be required to pay nearly 40 percent of the cost of care, straining the state's budget.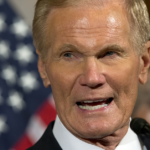 Nelson's Senate Bill 2066, which, like Murphy's was filed late last week, has already received endorsements from several local officials, including: Orlando Mayor Buddy Dyer, Osceola County Commissioner Fred Hawkins and Miami-Dade County Commissioner Daniella Levine Cava. The measure now heads to the Senate Finance Committee for consideration.
Murphy's bill has been assigned to the House Energy and Commerce Committee, and the House Financial Services Committee.
"On behalf of the Florida Hospital Association's over 200 organizational members, I am writing to express our strong support and deep appreciation," FHA President Bruce Rueben wrote.
"In all cases, Florida's hospitals will help everyone and anyone in need. The displaced residents of Puerto Rico are not exceptions. Our mission is to care for everyone and we will gladly meet this new challenge just as we stepped up to help our own communities during and after Hurricane Irma. This vital legislation will go far to help ensure that Florida's hospitals continue to have the necessary funding to fulfill our mission to care."
Murphy said the bill is modeled after a similar law passed to assist states such as Texas that took huge influxes of migrants displaced by Hurricane Katrina in 2005.
Her and Nelson's bills also would allow local housing authorities to access additional federal funding to help provide housing for Puerto Rico evacuees.
"Florida is doing the right thing by taking in thousands of our fellow American citizens whose lives were uprooted as a result of Hurricane Maria, and the federal government should have our state's back," Murphy stated in a news release . "Just as we did after Hurricane Katrina, we should give states who receive hurricane victims the resources they need to provide for their current and new residents. Central Florida has received a significant percentage of the Americans leaving Puerto Rico, creating greater demand for health care services and quality, affordable housing