Ed. Note — This story, originally published Wednesday, was updated Thursday night.
---
Tallahassee Mayor and Democratic candidate for governor Andrew Gillum has called for the removal of a Confederate monument in front of the Historic Capitol.
"In the wake of Charlottesville, people all around the country are grappling with how we deal with our nation's history and its uglier elements, including slavery, racism and the Confederacy," he said in a Wednesday statement.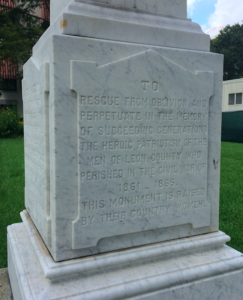 "Floridians must be a part of this work because our own history is checkered, and today I am calling on Gov. Rick Scott to immediately remove the Confederate monument … It is long past time. If he refuses, and I sincerely hope that he does act, I will do so on my first day as Governor."
But a spokeswoman for the Department of Management Services, which reports to Scott and acts as the state's real estate manager, said it's not the governor's decision to make.
"This monument is listed as a permanent exhibit of the Florida Historic Capitol Museum, which is managed by the Florida Legislature," spokeswoman Maggie Mickler said late Thursday. "The Department of Management Services would not take any action regarding the Florida Historic Capitol Museum or any of its monuments or exhibits without Legislative approval."
Records show the memorial was dedicated in 1882, and was moved to its current location near Monroe Street in 1923. It honors "the heroic patriotism of the men of Leon County who perished in the Civil War…."
"We owe it to our children and grandchildren to acknowledge that while we cannot change history, we do not have to glorify its ugliest moments with displays on public lands," Gillum added. "And most certainly not in our state's capital, and not in front of our historic statehouse. This weekend's tragedy calls all decent people to act with courage, and I hope the Governor will do so."
The Florida Senate has already removed a Confederate flag from its official seal and took down a mural outside the entrance to its public and press galleries that included a depiction of a Confederate general.
But with lawmakers taking no action last session, a bronze statue of a Confederate general representing Florida remains in the U.S. Capitol's National Statuary Hall.
Two competing bills died in the 2017 Legislative Session. One called for a likeness of educator and civil-rights activist Mary McLeod Bethune to replace the statue of Gen. Edmund Kirby Smith. Another proposed a statue of environmentalist Marjory Stoneman Douglas, author of "The Everglades: River of Grass," to take Smith's place.